Nature in the region
Nadwarcianski Park Krajobrazowy
The 'Nadwarcarcianski Park Krajobrazowy' was established in 1995 by the wojewod Konin (the province) because of the natural and culture-historical values. The park has a surface of 13.428 ha and includes for towns: Ladek, Pyzdry, Rzg├│w en Zagor├│w. People are free to visit the park. Trails are laid out to the most beautiful spots. It is possible to visit this area with an English-speaking guide.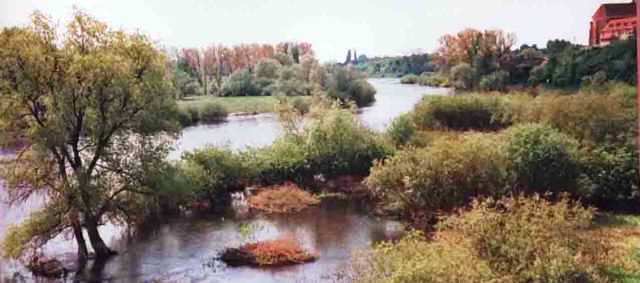 The old river landscape between Berlin and Warsaw is typical for this park. During the last ice-age the melting water of the glaciers formed this low land. The river Warta, in previous times kilometres wide, is now sometimes only ten metres wide. Curving this river streams through the land, with lots of dead river arms, beautiful grasslands, meadows and dunes. The annual floods influence the circumstances for flora and fauna. The middle part of the river is de heart of the international established landscape park and is a resort for wetland birds. It is one of the most important areas for nourishment of these birds.
In the park 217 species of birds are spotted, including 147 breeding birds. In Poland this area is even the most important breeding centre for birds like bittern, greylag goose, pintail, garganay, redshrank, ruff, black-tailed godwit and black tern. During the periods of migration thousands of geese, ducks and other birds visit this area. Elk, beaver and otter are the most important mammals in this area. And for amphibians it is also a very good area.
Flora is extraordinary rich. Because of the enormous variety in soil, humidity and the different gradients, different plant societies grow scattered next to each other. One can find approximately thousand species of plants in 230 different societies. 57 species are protected in Poland. Beyond the general botanical richness there are humid willow and poplar and alder bushes, just like salt willows, meadow vegetations and grassland of the steppes. It is surprising to find a saline flora in the middle of Poland. During centuries people found salt in the southern park of the park.
The water of the Warta is important for the biological circumstances for the plants. In historical times meanly willows grew on the terraces. On the lower parts alder dominated. Outside the valley pine and oak forests developed. Man has put a strong influence on the appearance of the landscape. But if you compare the park with the surrounding area, you will discover a vegetation with a very natural character.
Park Krajobrazwoy Zerkowsko Czeszewski
Just west of Ruda Komorska (Lupice) the landscape park of Zerk├│w is situated (n Polish). The park (15 400 ha) knows morenes and forests. The river Warta is floating through the park In the park you find the palace of Smiel├│w (musieum of the famous Polish novelist Adam Mickiewicz). A touristic map you'll find here.